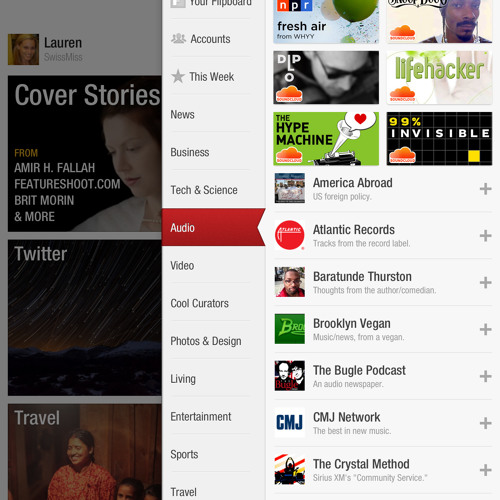 Flipboard, the social and visual news aggregator app for iPhone, iPad and recently has been ported to Android, just added sounds to the available list of selection. Other sources include your Facebook newsfeed, your Twitter timeline, photos from Instagram.
Similar to reading contents, Flipboard team curates and make available few well known audio sources such NPR, PRI, TWIT, etc.. Power users can always add the RSS from their favorite Podcasts. Once added, app users can play the audio. If the feed contains a list of mp3, then the audio files will be played sequentially. There is a small pop-up navigation  to control the playback, located at bottom left of the screen.
The most notable addition is the popular SoundCloud social sound network, which is similar to Instagram for photos. Adding SoundCloud permits to playback one's sound files as well as sound files from  followers, following SoundCloud users, add your stream, like sounds, make comments, etc…
The SoundCloud addition, essentially makes the magazine to a social audio player all within Flipboard to make a powerful platform to consume multi-media contents. Note that SoundCloud has its own iPad and iPhone app for audio discovery and playback.
Another addition for visually impaired users: If Apple's VoiceOver features are turned on in the settings of an iPad, iPhone or iPod Touch, the gestures to control Flipboard change and everything on a page is read out aloud. For instance, with one tap on a section a voice reads the title; a double-tap opens it and the voice reads the article.
The app is available for free in the App store
[Source Flipboard]